Hans J Eysenck's approach to personality
H. J. Eysenck approaches to personality this century method is factor analysis. In his origin model (EPI) Eysenck measured two dimensions of personality Introversion-extraversion and neuroticism (stability - instability). according to Eysenck this theory fits in very well with the theory of temperaments we looked at earlier.Why these three dimensions? Remember that factor analysis gives us many solutions to a factor matrix. Eysenck argues for the psychological reality of his dimensions by linking them to physiological mechanisms and by making predictions which can be tested experimentally. Later he incorporated a scale to measure psychoticism.
| | | |
| --- | --- | --- |
| VERSION | SCALES | COMMENTS |
| MAUDSLEY MEDICAL QUESTIONNAIRE MMQ (1959) | Neuroticism | Clinical sample |
| MAUDSLEY PERSONALITY INVENTORY MPI (1959) | Neuroticism and extraversion | Added extraversion scale taken form Guilford |
| EYSENCK PERSONALITY INVENTORY EPI (1964) | Extraversion Neuroticism Lie-scale | Factor analysis used to purify scale |
| EYSENCK PERSONALITY QUESTIONNAIRE EPQ (1975) | Extraversion Neuroticism Psychoticism Lie-scale | Addition of psychoticism dimension |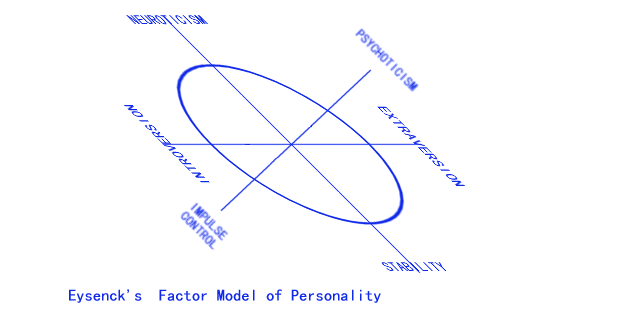 DIMENSION
DESCRIPTION
BIOLOGICAL SUB-SYSTEM
EVIDENCE FROM DRUG ACTION
BEHAVIORAL EVIDENCE
INTROVERSION-

EXTRAVERSION

sociable
lively
active
assertive
sensation-seeking
carefree
dominant
surgent
venturesome

Central Nervous System
Arousal of the Reticular Activating System
Alcohol Ritalin
Wilson (1990)
Introverts show higher levels of arousal than extroverts
Extroverts show increased arousal in the evening as they engage in stimulating activities.
NEUROTICISM-STABILITY

anxious
depressed
guilt feelings
low self-esteem
tense
irrational
shy
moody
emotional

AUTONOMIC NERVOUS SYSTEM Lability of the ANS (System concerned with digestion, breathing etc
The autonomic system of the neurotic is highly unstable and reactive.
Anti-anxiolytic drugs
bio-feedback
PSYCHOTICISM-IMPULSE CONTROL

aggressive
cold
egocentric
impersonal
impulsive
antisocial
unempathic
creative
tough minded

Hormone levels
Extraversion has been related to the arousability of the nervous system Neuroticism to the liability of the autonomic nervous system Psychoticism related to androgen level Extravert is low on arousal - stimulus hunger - low threshold for boredom Introvert is highly aroused - any stimulation is over stimulation Neurotic - rapid mood swings, sweating, pallor, breathlessness, contractions of stomach, dryness of the mouth - related to the ANS Women have lower levels of androgens and score lower on P. Some controversial evidence that androgen level is related to violence.
introverts do better in school than extroverts particularly in advance subjects
extroverts prefer jobs with other people introverts prefer solitary jobs
differences in humour - extroverts prefer sexually explicit and aggressive jokes whereas introverts prefer wit and puns
extroverts a have more sexual partners
extroverts are more suggestible.